Jessi wrote a 'what to pack' list for her blog, Where's My Tent? It's been slightly modified for GlastoCast!
The first things you need to pack, in an easily accessible side pocket, are:
!!! YOUR TICKET & YOUR ID !!!
People laugh and say "oh I'd never forget those!" but I have, and it's not funny. Having to go all the way back with your stuff, or beg your mum/best friend/boss to drive the ticket to you is not the best start to the greatest weekend of your life. Almost as important are:
!! MONEY & DEBIT CARD !!
Now we need to break your packing down into a few sections. Let's start with…

Accommodation
TENT
Whatever size the description SAYS it is, double it. If you want a tent for you and one friend, buy a four man tent. 3 people = 6 man. You will have big bags and need room to manoeuvre. Always buy a tent with a porch for muddy wellies, and always buy a double skinned tent.


EXTRA TENT PEGS
Tent pegs save lives. Well, maybe not, but they are essential for keeping the inside of your abode dry. Bring spares.
SLEEPING BAG
Don't cheap out on this. A "mummy style", the ones with the hoods, are best.

MALLET
A lot of festival camping grounds can be rock hard, and it can be difficult to get in those pegs. A mallet saves you a lot of hassle (and usually helps you make friends with your neighbours when they ask to borrow it!).
SELF INFLATING MAT / ROLL MAT / AIR BED
Five nights sleeping directly on the hard ground means you would be tired, grumpy and achy, so add an extra layer to isolate you from the ground, giving you more comfort and warmth.

Self inflating roll mat / Airbed – get an inflating roll mat at least 5cm thick, or if you go for the classic airbed bring a few extra blankets as these can be cold (big pocket of cold air).

Insulating roll mat – one of the ones with silver foil on one side. These insulate your mattress from the cold ground and keep you nice and toasty.
TRAVEL PILLOW
Your spine will thank you.
CAMPING CHAIR
As much as I'd love to spend all my time exploring, you usually do spend a lot of time at camp. Being able to sit comfortably is worth it! Plus, drink holder.T
EAR PLUGS
Ensure a great night's sleep, even when the people next door are up all night discussing loudly who are the greater 'Stones'? Rolling or Roses?
FLAG
The easiest way to find your group of tents is to bring a flag for your campsite. The funnier the better.
Clothes
UNDERWEAR
One pair for each day of the festival, plus two spare.
SOCKS
Many! Short and long, thick and thin pairs. You'll feel much happier if you can keep your toes warm and dry. 10+ pairs at least! Trust us!
WELLIES / WALKING BOOTS
If you've got a comfy pair of reliable wellies bring those, especially in extreme weather. Walking boots are a great alternative, a lot of people say more comfortable, but they'll need breaking in first.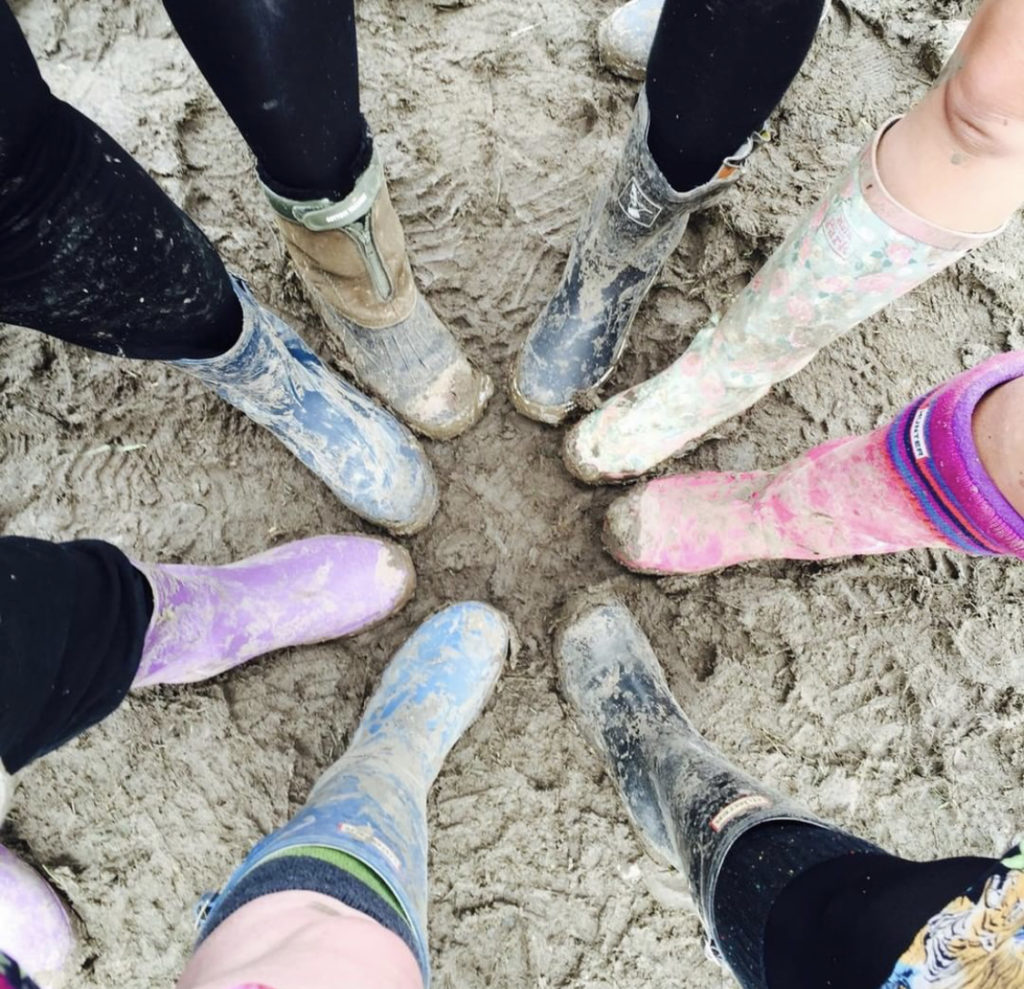 COMFY TRAINERS
If the weather looks to be a bit nicer, trainers are perfect. Festival sites are large, and comfortable feet are a number one priority!
LAYERS
Bring at least one hoody, a couple of long sleeve tops, some vests, leggings and tights. Things you can easily take off and on.
WATERPROOF JACKET
Lightweight is ideal so you can keep it in a backpack, and make sure it is actually waterproof!
BACKPACK (or DAYPACK as Miguel & Rob call it!)
Something light you can carry your alcohol, water bottle, sun cream and extra layers in for the day. Keep some toilet paper and hand sanitizer in here too.
BUMBAG
Hands free for dancing! And easily the best defence against pickpockets for your phone and money.
SWIMMING OUTFIT
for those camp showers Jessi mentioned on the podcast!
SEQUINS / FANCY DRESS
Because being sensible all the time is boring.
SUNGLASSES
Protect your eyes and look cool!
It's very easy to get excited and take too many clothes, so one tip is to plan your outfits for each day and pack each of them in separate plastic bags. Keeps them dry, you don't have to decide what to wear, and you don't take too many clothes. Do still bring extra layers though to add on/subtract if necessary!
Also, if you have come by car, ALWAYS keep a clean & dry set of clothes in your vehicle, in case of emergencies, but also it's so nice to have clean clothes to change into before your journey home.
Gadgets
PORTABLE BATTERY PACK(S)
As much as I love going 'off grid', a mobile phone is almost essential at festivals if you want to be able to find your friends. To keep it charged all weekend, buy a 20,000mAH battery pack, there are some good ones on Amazon! You may even want to take two of these just to make sure.
TORCH / HEAD TORCH
Having a torch in your tent is a godsend when you return home drunk and are trying to find your toothbrush/hoodie/phone charger.
FAIRY LIGHTS
Buy battery powered fairy lights and use them either on your tent to help guide you home, or wear them so you look awesome and your friends don't lose you easily! Ikea and Primark do good ones!
DUCT TAPE
Always have duct tape. Solves all manner of problems from a tear in your tent to fixing your fancy dress prop.
BIN BAGS
…or plastic bags. Help keep things dry in the toughest of conditions.
'S' HOOKS
These nifty little things are amazing for guys and girls alike to hang their bags & coats in the toilet stalls so you don't have to put them on the muddy ground. Also handy for hanging up wet clothes/towels in the porch of your tent.
Toiletries
ESSENTIALS
Toothbrush, toothpaste, shower gel, shampoo, leave in conditioner, dry shampoo, deodorant, vaseline, face wipes, biodegradable baby wipes, toilet roll, hand sanitiser, nail scissors.
MEDICINE
Dioralyte, paracetamol, ibuprofen, suncream, condoms.
MAKEUP
Glitter, glitter, and more glitter, stick on gems, waterproof mascara. Did I forget to mention glitter? Always buy biodegradable though!
Food & Drink
NO GLASS BOTTLES
Whether you're bringing in spirits, wine, beers or ciders, remember that on all festival sites, no glass is allowed. Always make sure you choose crates of beer/cider cans (not bottles), wine obviously comes in huge 3L boxes, and decant spirits into plastic bottles LABELLED CLEARLY. Don't accidentally swig vodka instead of water when brushing your teeth!
REUSABLE WATER BOTTLE
Keep water on you at all times. Take advantage of the number of taps on site and fill yours up whenever you see one.
SNACKS
I tend to bring cereal bars, crisps, Babybel cheese, oranges, chocolate brioche… these all tend to last well and are easy to pop in a backpack.
Remember…
…to pack smart! A hiking backpack is the best way to go, as suitcases and other bags will suffer. A lot of people tend to get a trolley between their group, but beware most trolley wheels weren't built to survive the terrain at festivals! They can be difficult to pull through the mud also.