My first Glastonbury was in 2011, and I went by car with a group of friends. As a newbie and as someone who tends to prepare for the worse, I committed a common first-timer mistake: overpacking. Since then, I've been going by coach. However, that is not the only reason I take less camping gear and clothing every year. Even at my first time, I had a practical approach – prioritising comfort over style, for instance. I started on a low budget, but every edition of the festival I invest a bit on new gear, slowly improving my equipment with lighter and better items.
If you go by coach, you gotta pack smart.


Schertel, Miguel; GlastoCast S1 Ep2.
Here's a rundown of my packing list. I will add cost and weight when relevant/possible. Just like Jessi, I have to start my list with a warning:
YOUR TICKET AND ID
Yup – every packing for Glastonbury post has to start with this reminder. You will have to show (but still keep!) your ticket when collecting your wristband and you may have your ID checked then. Is advisable to always carry the ticket with you and you, as you will need it for re-entry.
CASH / DEBIT CARD
Most bar and shops accept contactless, but I always take part of my budget in cash. Consider using a bank such as Monzo – easy to keep track of your spending and block the card in case of loss. Sign up using my referral link to get £5 after your first use.
ESSENTIAL GEAR
What I consider the bare minimum for Glastonbury.

TENT
There are are lighter tents than mine – but here is where I sacrifice on weight for more comfort by taking a 2-man tent with an excellently sized porch with attached groundsheet. This gives me two spacious room – the porch for storing my empty backpack and other less valuable gear and for changing from muddy clothes, and the sleeping area, which is then kept clean. A practical porch makes everything much more manageable.

Test your tent on your garden before the festival – especially if you are not used to camping – in order to check parts and to practice pitching it.
Cost: £75 (on offer) Weight: 4.7kg
SLEEPING BAG
I'm not one to feel much cold, so I bought the lightest/cheapest sleeping bag I could find.
Cost: £12 Weight: 880g
PROPER FOOTWEAR
I have waterproof trainers to wear on the journey but unless it's a very dry year, you probably gonna find me on my wellies.
Whatever is your choice, make sure it is comfortable before the festival – especially if it's new – by breaking it in going for a few long walks.
Cost varies according to quality: £12-£120


SOCKS ARE VERY IMPORTANT!
Look into hiking socks for boots and knee/calf-high ones for wellies, to avoid chafing the calf. A good strategy is to pair quality socks with a thin Coolmax liner to ease the friction and to help with sweat. Bring at least a pair per day.
Cost: quality socks start around £10 per pair
HEADTORCH
Hands-free light! Perfect to use inside your tent (and to find it on your way back from the after hours) and a godsend when using the toilets when it's dark. You don't need a special one, go for the cheapest you find.
Cost: £1 (yup)
RUCKSACK/DAYPACK
If you go by coach, you need to carry it all at once, so invest in a quality rucksack. Mine's a 65L.

What to look for: adjustable back system, balance adjusters, chest and hip straps (mine has a convenient pocket in it), plenty of external pockets and loops for attaching your gear and an included rain cover.
Cost: £45

DAYPACK to use around the site, carrying your REUSABLE WATER BOOTLE, booze, snack, waterproof jacket, etc. Get one with good straps and side pockets for bootles.
Cost: £15 (daypack) £3 (reusable bottle)

EXTRA GEAR
Extra weight, extra cash but extra comfort.
IMPROVE YOUR SLEEP
SELF-INFLATING MAT: An extra layer of air and foam under your sleeping bag to add softness and isolation from the cold ground. It probably should go into the essentials list.
Cost: £18 Weight: 1kg

INFLATING PILLOW: better than a roll-up of clothes.
Cost: £3.99

REFLECTIVE SUN COVER: If you are one to enjoy the late hours like me and need to get some sleep when the sun is already out, this will help a lot. Your tent becomes an oven on sunny days, adding some reflective material to its top can help cooling it down for that extra hour of sleep. Do not go for cheap emergency blankets – they are flimsy and noisy (you'll feel like you are inside a bag of chips) and even if you might not bother, it is inconsiderate with your neighbours.

To avoid the noise, look into aluminium foil picnic blankets, shade cloths, car covers, silver tarpaulins – you will need tools to fix it onto your tent (strong pegs, tape, rope, etc). Aluminet is an expensive material but comes highly recommended on Buring Man festival forums – I might look into upgrading this year.
Aluminium picnic blanket
Cost: £5 Weight: 350g
Aluminet
Cost: £20 Weight: 400g

I took a sleeping mask and earplugs on my first Glasto – but not ever since. I realised I wasn't going to sleep much or be too tired/drunk to need any help in doing it :p

CAMPING ACCESSORIES
CAMPING CHAIR: extra weight, hard to carry, but oh so worthy to use around your campsite when getting ready in the morning and for having a chill in the afternoon. You will be standing up or sitting on the ground most of the time, and a proper chair makes a difference.

If you don't have one, you can buy them at the festival – but bring home with you!
Cost: £10 or two for £15

WATER CARRIER: I have a 10L collapsible water bag carrier – fill it on Wednesday, and it may last you until the end. I use this mainly for brushing, cleaning, etc. I have a rule to always fill the reusable bottle I carry in my daypack, so I use that for drinking water.
Cost: £5 Weight: 100g

TENT LAMP: you can get an inflatable tent light that packs quite small. It has a strap to hang on your tent and reflective material, so the light illuminates much better than using only a headtorch.

BIN BAG: take one for a start – after that, you can grab more at the campsite information points.

TOOLS: consider taking assorted accessories such as gorilla tape, extra tent pegs, a mallet. If you don't and end up needing, you can buy these at the festival or borrow from your tent neighbours.
CLOTHING AND ACCESSORIES
My Glastonbury wardrobe is technical and practical, formed mostly by hiking clothing. That means it is light and quick drying. I can even wash it, hang it on my camping chair and it's ready to use the next day again so that means I can take fewer items. Apart from the list below, I have a full change of clothing I pack at the bottom of my backpack, to wear when coming back home.

4 TOPS: a mix of hiking shirts/tees, breathable and quick drying fabric. Cost: from £8.

2 CONVERTIBLE TROUSERS: with plenty of pockets, water resistant – ready for all weather! Cost: from £15.

UNDERWEAR: more than one per day.

PLENTY OF SOCKS: see above on Footwear – also take extra, changing sweaty socks help to avoid blisters.

WATERPROOF JACKET: packable ones are great. The more you pay, the better waterproof and breathability rating. Look for options with vents at the back and underarms. Cost: cheap ones start at £15, better options at £40.

WARM LAYER: if it rains, the waterproof jacket will keep you dry, but won't keep you warm. Take a light jumper/fleece. Cost: from £15.

MICROFIBER TOWEL: for drying after a quick "shower" at the taps. Cost: £5.

SWIM SHORTS: for wearing during said "shower".

SUNGLASSES: the item we are all hoping to need.

FLIP FLOPS: great for wearing around the tent to give a break to your feet and running errands nearby (filling up water, toilet run, going for a quick breakfast, etc)
TOILETRIES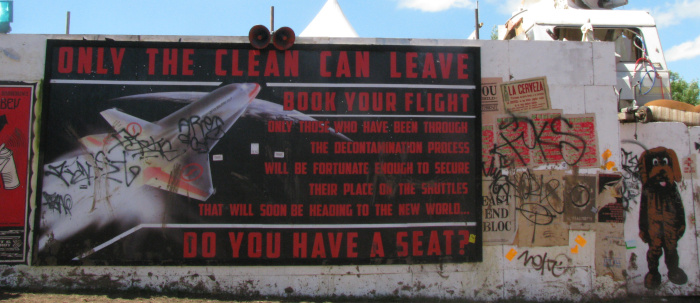 WET BABY/SHOWER WIPES (BIODEGRADABLE!): a festival staple – give yourself a daily baby wipe shower in your tent, carry some with you for use in the toilets. They can be used for cleaning mud from your legs, hands or gear. For removing makeup/glitter, cleaning spillages… and so on. Most of the issues you might run at Glastonbury can be solved by baby wipes.

ELECTROLYTES TABLETS: to replenish the salts you lost when dancing all night. They add taste to your water and some brands also contain Vitamin C and D. Carry with you and have it during the day and before sleep. If you keep yourself hydrated, you will avoid hangover headaches. It is also a good idea to take some MULTIVITAMIN.

ANTIBACTERIAL FOAM: there are gels near the toilets, but I also carry one with me. I prefer the foam type.

TOILET ROLLS: not just for carrying with you to use at the toilets, can also be useful for cleaning/drying at the tent.

PEEBOL: pocket-sized toilet bag – yup, pee inside your tent. The bags contain absorbent granules and hold up to 1 litre and avoid odours. Lifesaver if you wake up in the middle of the night and need a wee, especially if it's raining and muddy out there. Dispose of it accordingly after use :p

OTHER ESSENTIALS: don't forget any prescription medicine you need, toothbrush/paste, deodorant, suncream, condoms.

Prefer Ibuprofen to Paracetamol, which you really should avoid taking when drinking. Bring some diarrhoea tablets.

You will walk a lot at Glastonbury, you may get wet, then dry. Cold, then sweat. I bring Sudocream and baby powder (can also be used on footwear and inside socks) to avoid any chafing issues. Pack some regular and blister plasters.

MAKEUP/GLITTER (BIODEGRADABLE!): I don't bring any costume or "festival" clothing, but I love getting some colour and shine on my face 🙂
ALCOHOL
You can bring your alcohol into the festival – and loads of it. However, you cannot bring glass bottles – so decant your booze into plastic/metal ones (reusable if possible). My choice is simple:

4 BOTTLES OF CHEAP WHISKY

Spirits have a great weight to fun ratio – I mostly drink it straight, but on hot days, I buy some cold mixers at the ice cream vans. They also make you pee less 😛
FOOD
Non-perishable, zero preparation, easy to pack food to have at the tent.

TUNA POUCHES: you can find ones with dressings, like tomato and herbs and lime and black pepper. Cost: £1.25.

SNACKING OLIVES: also in pouches and with flavourings such as garlic. Cost: £1.

SMOKED SAUSAGE: these don't need refrigeration. Cost: £2.

PROTEIN BARS: good snacks to carry in your daypack. Cost: £1.50.
GADGETS
SMARTPHONE: I keep mine off/airplane mode most of the time, but I still take it for checking Twitter/Glasto updates and communication, occasional photo.

DUMBPHONE: a cheap phone with a SIM card to keep in the tent – I tag

EVERYTHING (gadgets, wallet, bags) with both of my contact numbers. Cost: free with £10 top-up

POWER BANK: at least one 20000mah – keep an eye out for offers. Cost: from £20.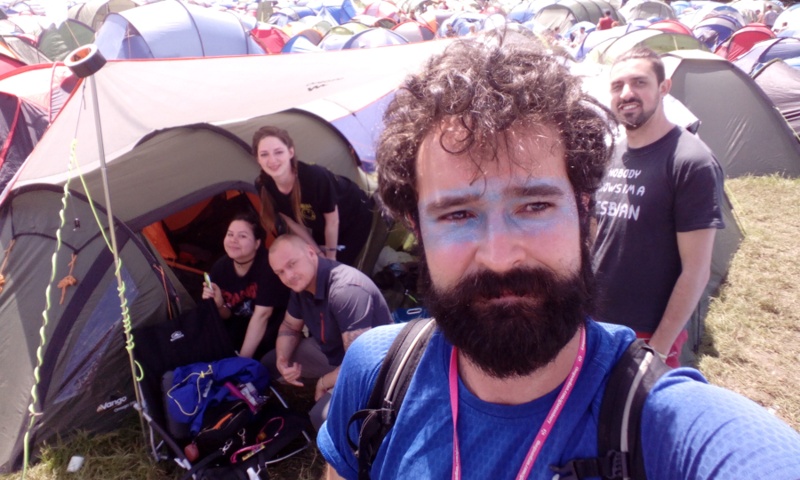 We covered packing on two episodes on GlastoCast, have a listen:
S1 Ep2: What to Pack for Glastonbury – Part I
S1 Ep3: What to Pack for Glastonbury – Part II
For any question, use our contact form or reach for us on social media!